Hi everyone,
I got the results of the survey that I sent out, based on some of your feedback I'm going to implement some changes to next year's honey CSA. I'm going to present them here, I would love to hear your opinions – is it a step in the right direction, is it all wrong, whatever you feedback is, I'm all ears!
Payment changes
During registration, you'll decide between paying in advance (when you register) or paying on delivery. Pre-payment does not give priority – it's just for your convenience. If I end up not having enough honey, a refund (partial or full) will be issued.
Zelle will be added as a payment option.
As I had several people asking about PayPal, this will become an option again. I removed PayPal due to the fees they charge, for those who really prefer PayPal, a charge for PayPal fee will be added to your payment, so it will be your choice between PayPal's convenience vs avoiding their fees. PayPal generally charges $0.30 + 2.9% of the transaction.
Pickup Changes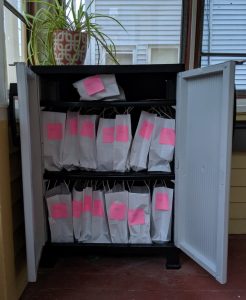 As most of you are aware, I'm using a cabinet and I'm asking people to choose when they pick up their honey. The reason I switched to this is that the cabinet can only accommodate so many bags.
As we all live busy lives, instead of putting all the bags in the cabinet and waiting for them to be picked up, I switched to asking people when they'd like to pick up. This allows for better space utilization, but just as importantly, the honey doesn't sit there waiting for too long in the heat of summer, especially the honeycomb.
This is why I'm keeping this pickup method and pickup date selection, but here are some changes:
Some of us (me included) need glasses to see the digits on the lock – I've put a pair of basic reading glasses on the cabinet. Use them if you need to.
Instead of picking one precise date, you'll pick the date you want the honey to wait for you. You don't have to pick it up on that specific day, but aim to pick it up within a week or so from that date, so you can give yourself some wiggle room.
When placing your order, you will choose between picking it up as it becomes available (typically two separate pickups) or waiting until it is all ready (likely in mid-August to early September).
I will try to have one or two occasions per CSA pickup period where I'm physically present and you can come and get your honey from me in person. I'll do my best but I can't guarantee that. You can still pick up from the cabinet if you prefer that.
Product Changes
What I currently offer will not change, but here are some additions.
Cappings honey – this is honey that comes out when I melt the wax cappings that the bees placed on the comb. It tastes slightly different. I ran a little experiment this year and gave it for people to try out, next year it will be offered as a product. I still have some left – if you want some this year, please contact me.
Beeswax – I will have this as an option, and if enough people are interested, I'll be offering beeswax as well, probably in 1 oz bars, so if you want to make your own candles or lipbalm, this could be useful.
In the past I tried to look into collecting bee pollen. No promises, but I might look into it again. If you are interested, let me know.
I might add a "honey in your own container" option, which I did have before.
Registration for next year will begin in January, initiatially for existing members and then to everyone else. I will likely close registration when I get to a certain amount – based on prior year, that is expected to take place rather quickly.
You can leave your comments below (publicly) or email them to me (in private). I'd appreciate any thoughts – good, bad or otherwise.