Tal's Honey CSA brought by the bees, the hives, the honey (as well as other bee products), and me – Tal, the beekeeper.
I'm Tal, I'm excited to share with you my passion about bees. In the past few years, I have become a beekeeper in the Boston area. On this website you can learn about bees, about my Honey CSA.
Registration for the 2020 CSA season is closed. I already went through couple of harvests and will likely have extra honey available. I highly recommend adding your name to the waiting list (so you'll be notified once extra honey is available).
Things you need to know if you're looking to buy honey: I do not have a store, and for the most part my honey is only sold directly through me (rare exceptions apply). The way it works is that you contact me, tell me what you're looking for, I leave you the honey in a cabinet that I keep for that purpose in the Davis Sq area in Somerville, you pay for your honey and pick it up. If you're interested in my honey, a good first stop would be to email me: tal@honeycsa.com. During the season, when/if there's lots of extra honey, you'll find it here, or you can sign up for my mailing list to be notified.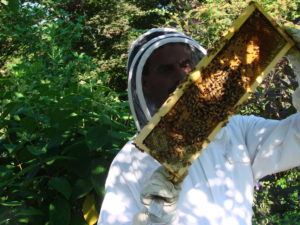 If you wish to read or learn more about bees, look at my bee-blog, read through the posts linked above, or sign up to my mailing list to receive regular updates.
If you have any questions or comments, I will be delighted to hear from you!
– Tal