Tal's Honey CSA brought by the bees, the hives, the honey (as well as other bee products), and me – Tal, the beekeeper.
I'm Tal, I'm excited to share with you my passion about bees. In the past few years, I have become a beekeeper in the Boston area. On this website you can learn about bees, about my Honey CSA.
You can buy my honey today. Just use the form on this page and you'll hear with me within a few days. You will pick up your honey near Davis Sq in Somerville. You only need to pay when you pick up your honey.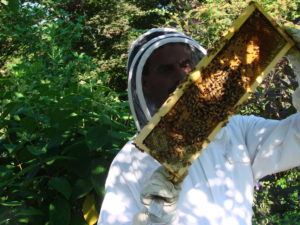 If you wish to read or learn more about bees, look at my bee-blog, read through the posts linked above, or sign up to my mailing list to receive regular updates.
If you have any questions or comments, I will be delighted to hear from you!
– Tal