Tal's Honey CSA is my hives (workers, queens and drones) and myself, with the kind help of my girlfriend Ellie, and with permission from the kind people who provide space for my hive and their gracious neighbors (you know who you are!).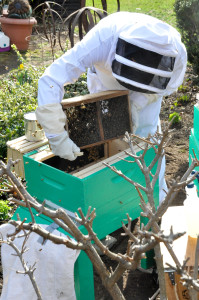 I'm Tal, originally from Israel. I've been in the Boston area for quite some time now. In 2012, after hearing countless times of the demise of the bees and CCD, I decided to enter the wonderful world of beekeeping. I started with two hives in West Medford. A year later the hives starting generating honey and lots of it, making me realize people might enjoy local honey, hence Tal's Honey CSA was born in 2013.
In 2014 I added a third hive to the mix (in Somerville), but as the 2015 winter was not very kind to me (or to anyone), I lost all of my bees. In the spring of 2015 I re-established those three hives (using purchased bee packages). Later that season I established three additional hives (in Stoneham and West Concord) in order to increase winter survival.
I currently have those six hives, which is just about the perfect number of hives I wish to have.
Tal's Honey CSA typically opens for registration in January, and is initially limited to 15 shares. Additional share requests go to a waiting list until some time in April, when the hives are inspected. I then decide whether I can accommodate additional shares. To get regular updates, please sign up for my mailing list.